Bannerman is a 2D sidescrolling action game currently being developed by Armitage Games. Bannerman focuses on skill-based combat with medieval weapons in a low fantasy setting.
Combat mechanics in Bannerman are based off historical fighting techniques, with the player able to utilise cuts, slashes, stabs, blocks, kicks and half-swording techniques to combat their foes.

Controls are simple and intuitive, yet combat is very challenging. Timing and stamina management are greatly rewarded, and the player is encouraged to chain various attacks together.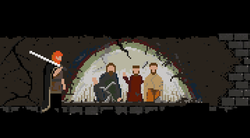 The fantasy world of Bannerman is based on 13th century Western Europe, with aesthetic cues taken from late 16th century Eastern Europe.

Strong character development throughout the gaming experience and a "show, don't tell" approach to storytelling and the narrative direction are a priority.
---
Release is currently planned for Q1 2016.